Seashells Featured at Brides Live Wedding
This past Sunday our seashells were featured in the beach chic wedding decor at Brides Live Wedding from the St. Regis Monarch Beach in Dana Point. Over 200 lbs of India Mix Seashells lined the aisles along with silver painted brown flat scallop shells thanks to the design expertise of A.a.B. Creates from New York.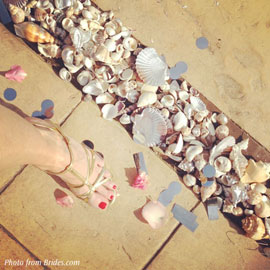 Watch the wedding online at Brides.com and see how the shells sparkle.
Get more ideas for your beach themed wedding or party on our NEW Beach Wedding Decor page on our website!
And, for those brides on theKnot.com you can visit us here.