We are proud to announce that our "Shell Shop" on Main Street in Seal Beach has been selected by Orange Coast magazine as one of the best experiences in Orange County, California. One of the most-anticipated issues of the year by local residents, the 2015 issue hit the newsstands this week. Amongst the rankings of Oh-So-O.C.: Why Some Local Experiences are Shorthand for Orange County, California Seashell Company is listed along with Knotts Berry Farm, The Nixon Library, and Wahoo's Fish Tacos. Here is the excerpt from the issue: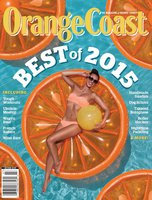 Because Mayberry by the Sea still has a shell shop … ➽ Seal Beach's Main Street is charming, a little homespun, and a little old-fashioned. Thank goodness! Even as we celebrate the newer, hipper stores, we enjoy picking up ships in a bottle, mermaid decor, fish net decorations, and of course plenty of shells at the California Seashell Company. See more at OrangeCoast.com.
If you've never had the chance to visit us in Seal Beach, we invite you to stop by on your next vacation to Southern California - you won't be disappointed. But, if you're not in the area. You can always get a taste of what we have to offer online at www.CASeashells.com - and bring a piece of Orange County's best straight to your home!
Recent Posts
With all the hustle and bustle of the holiday season, sometimes you just don't have time to finish a …

It's that time of year again when you need some spectacular gifts that will WOW and not break the ba …

You've decorated your home with some gorgeous dried starfish. Soon you start to notice the dust …